Millions of people are thinking of using the web or mobile apps of Mint, Manilla, or Check to manage their money, personal finance, or household bills and statements. At the same time, millions are already using them, but the question everybody asks is: What is the difference between Mint, Manilla, and Check?
This is obviously important to know before we start managing our money or organizing our life with these products. But for those who are already using them it's also key to understand what the others offer that the ones we have don't. We might be missing out on some great features we need vs some features that are not useful for our style.
How do they compare?
This chart shows which features each service offers. The ones that are highlighted are the unique features of each service.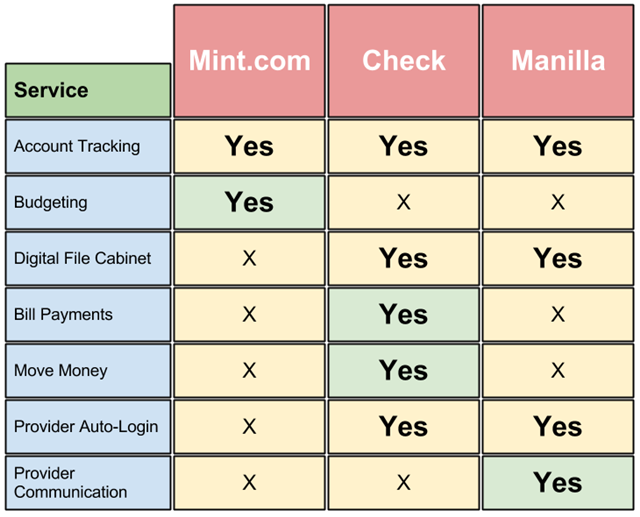 And what does this mean for me?
As shown on the image above to do this comparison it is important to know which are the key functions to manage our finances on a day to day basis and which ones we will actually perform. This is the list of those functions and their descriptions:
Track our account balances and activity: All three services provide this feature. It is the process of going to our financial providers' websites or apps and checking the balances of our accounts after income and expenses are deducted. Also, checking and verifying the list of transactions in our accounts sorted by date, payee, and amounts. Nearly everybody needs and does this on a regular basis. These services provide a convenient way to do this all in one place by entering our providers' id's and passwords so we can link everything on their platforms.
Budgeting: This is one of the functions that differentiates these services and us as users. The only one that offers it is Mint. It consists of making a list of income and expense categories and calculating how much they will be in the future. This budgeting feature is very useful and it is offered along with other capabilities like financial goal setting, personal financial reports, and the ability to categorize each transaction. This is only valuable if you like to project and plan your finances, if not it might only cause some clutter and confusion in your account management.
Filing: The "Digital File Cabinet", as I call it, is something we could all use, but not everyone needs or will use for lack of time or dedication. It consists of replacing all our paper bills and statements, including receipts and notices from our providers, with digital copies that are stored and organized by provider and category. Manilla is the master here, but Check also offers a good version, it's like a DropBox or Google Drive, but for our financial and billing files.
Online bill payment: This is another of the key services that differentiates them. Check is the only one that offers it with great functionality, especially on their mobile apps. It is the ability to view and actually pay your bills on their web or mobile app. It is very well designed and easy to use and it connects your financial accounts with your payments so you can choose what to pay and from which account. In the case of Mint and Manilla you still need to go to your provider's websites or apps to do this.
Move money: This is the ability to move money and Check is also the only one that offers it. The service is to send money to people you need to pay things to, but they don't actually send bills. These might be home or local providers like the piano teacher or the rent.

Provider auto-login: This is available on the Check and Manilla "Account Detail Page" for each provider you link with them. It's the ability to connect with your providers' websites or mobile apps directly from the Check or Manilla platforms. They provide this link where you don't need to log in again to your provider's site or app because you were already looking at your account information on their service.
Provider communication: Finally this is the third feature that differentiates these services and also our styles as users. It is only offered by Manilla and consists of when viewing the account detail page for any provider, you'll see offers but only those for that provider (e.g., if you're checking your AT&T account, you will only see AT&T offers for other AT&T products and services). That's because providers can use that space to communicate custom offers to us. The key benefit here is we are not bombarded with multiple brand and irrelevant offers and providers can communicate privately with us with no clutter or advertising from other sources.
This last feature is important to note because the majority of new finance services want to dis-intermediate the relationship between us and our providers so they can handle our needs instead of them, but up to what point is that better for us? The majority of Manilla users actually say they prefer to keep in touch with their providers and they actually use their websites and download their apps more through Manilla. This is a key finding and a unique feature of Manilla's service.
[Update – 7/31/2013 – I have spoken with Steve Schultz, COO of Check, and they will provide this service soon on their web and mobile apps too.]
So which one should I use?
– If you need to track your accounts and additionally project for the future and do your financial planning or even with the help of a pro then Mint is clearly the best option for this.
– If you want to track your finances, have a place to digitally store your bills and statements, but also maintain your relationship with your providers to manage your accounts with them then Manilla is the best option for you.
– If your solution is to link all your accounts, digitally store your bills and statements, and also be able to pay your bills then Check is your perfect match.