Mint is an online financial account tracking and budgeting service. To use it you can go to Mint.com or download the app to your tablet or smartphone both from the Apple App Store or the Google Play store for android devices. 
It is a fantastic way to finally organize your income and spending and you can just track account by account or mark each transaction with a category to have a better understanding of how your money comes and goes.
It all starts with what is called "account aggregation". This means that when you are on Mint (the web or the app) you will be able to link your accounts by entering your user id and password for each of your financial providers just like when you use their websites or apps.
For example if you have a Chase checking account, a Discover card, a Schwab investment account, and an IRA with your local bank, you just enter each one on Mint. After you do this you will see all your balances and account history on Mint just like you would see them by going to each provider's website or app, but in this case everything in one place!
Imagine how powerful this is, now you can check your balances and transactions without logging in and out to multiple services. Additionally you can analyze your financial information using Mint's tools like categorization, spending reports, income reports, and see the performance of your investments everywhere and not in each account separately.
This is Mint's official introduction video:
When I say "it all starts by linking all of your accounts" it is because from there, with all that information, you can do all sorts of things to track your money and make better financial decisions. These are the different features of Mint:
Overview page:
On this page you get the first glimpse of your financial situation in a matter of seconds. Mint tells you your account balances separated by Cash, Credit Cards, Loans, Investments, and Properties. Then there is a central "activity stream" where the company posts messages, advice and alerts about your accounts and how to save money. They thought of everything so in the message stream they include alerts, advice, tell you when bills are due, your budget and financial goals messages, investment tips, and also what they call "Ways To Save" where they include a recommendation of a financial product that might benefit you based on your personal profile.
Transactions:
Like I wrote above, on Mint you can see every transaction on each account just like on your provider's website. In this section you select which account detail you want to see. Also, you can categorize each transaction, for example you may mark a debit on your credit card as "Groceries" or another transaction on your checking account as "Utilities", etc. Here you manage your transactions as you please, if you don't want to categorize Mint marks each transaction with a general category system they use by default.
Budgets:
This is one of the best features of Mint for the more dedicated users. On this section you can create a budget to monitor your income and spending according to your plans. You can create lines just like you would on a piece of paper or on a spreadsheet. Budgeting is about the future so you can have income categories like "Salary", "Reimbursements", and "Consulting Fees", and you can project month by month how much you think your income will be in each line. In the same way you can create spending lines like "Rent", "Mortgage", and "Entertainment", and project your expenses.
Once you create your budget it is easy to compare on Mint how your real income and spending is doing relative to your budget over time.
Goals:
Similar to budgeting your financial goals are about the future. On this section of Mint you can easily select specific types of goals and establish amounts you wish to reach. The goals you can set range from paying down credit card debt or loans to establishing savings objectives like for an emergency fund, college, or a trip.
Once your financial goals are set Mint keeps you updated on the Overview page on how you are doing, if you are ahead or behind on the objectives you established.
Trends:
This section is all about visualizing your financials. Mint shows you your transactions organized by categories in donut charts (pie charts, but with a hole in the middle). This way you can monitor, for different time periods, your income and spending patterns. This is how it looks like: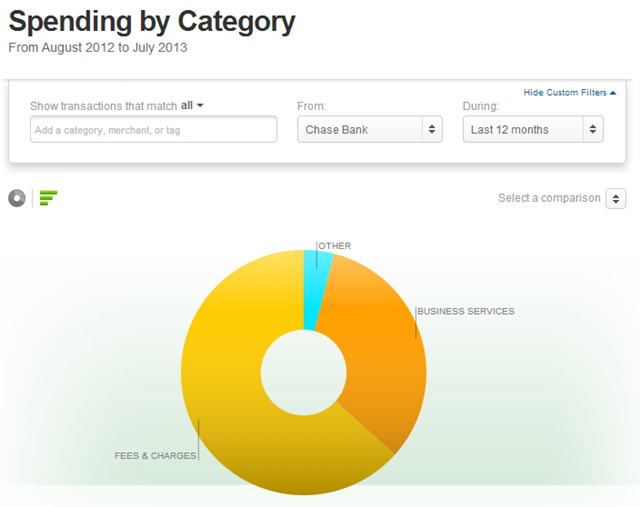 Investments:
The investments section is a whole self contained part of your finances. Here you link all of your investment accounts including brokerage, mutual fund, online investment services, and retirement accounts. You can visualize and analyze everything in a consolidated manner. From realized and unrealized gains, tax impact, to dividends and capital gains, everything can be managed here.
"Ways To Save":
This is what I call Mint's financial supermarket. In this section Mint promotes offers from financial providers that match your banking, tax, credit, and investment profile. They categorize these services by Credit Cards, Savings Accounts, Checking Accounts, CD's, Home Loans, Brokerage, Rollover 401k's, IRA's, Auto Insurance, Life Insurance, and even Credit Score services. If Mint identifies that you are missing a financial product on you profile or you could do better with a different provider you would find it here.
Conclusion:
As you can see Mint is a full service and integrated account tracking and budgeting service. They not only help you organize and visualize your finances so you can make better financial decisions, but they also identify opportunities for you to save money by using better suited products for your profile and by alerting you of your day to day and month to month financial events like paying your bills and reaching your financial goals.
In terms of privacy and security Mint is clear in their Terms of Service and Privacy Statement that they use top bank level security and encryption and they gather your financial information from your providers with your permission and it's "one way" in the sense that through their application you or they can't actually move money or pay bills, for that you would still use your providers' websites and apps as usual.